Weddings, Meetings & Events
Strawberry Hill is made for romance. Exceptional weddings for three to 150 guests happen here. With a choice of uniquely beautiful settings, it is no wonder that lovers have always found their way to Strawberry Hill. Discover our exclusive wedding packages and plan your special occasion on our Wedding Calendar. You may also create your very own Honeymoon Registry.
Parties, conferences and company retreats are all drawn to the charm of our mountaintop, Post-Plantation village and the breathtaking backdrop of the Blue Mountains. Our simply elegant Villas and Private Dining Rooms, each have their own special atmosphere. The dramatic Infinity Pool, with its mesmerizing view of Kingston and the Caribbean Sea situated more than 3,000 feet below. The quaint, cobbled Jadevine Courtyard, ringed by cascades of iridescent tropical blooms. The majestic lawns, where even the most experienced visitor can sense a "natural mystic" blowing through the air.
The Yoga Pavillion
From the edge of Strawberry Hill's Main Lawn sits The Yoga Pavilion, offering unparalleled views of the Blue Mountain peaks. Host your perfect wedding in this beautifully tranquil location.
The Restaurant at Strawberry Hill
The Post-Plantation charm of the airy restaurant's white wood jalousies and exceptional fretwork makes our locally sourced New Jamaican cuisine taste even better. Up to 80 guests can be…
The Adinkra Lawn & The Main Lawn
Surrounded by mountain peaks, the lush 4,500 square foot sweep of our Main Lawn is a phenomenal setting for a wedding or any joyful gathering. For a more intimate…
The Pool
The breathtaking, glorious sight of Strawberry Hill's Infinity Pool has become iconic. Up to a hundred guests can socialize around this extraordinary lagoon, suspended high above Kingston. Its dramatic…
Villas
Guarantee an unforgettable gathering in one of our glorious Strawberry Hill Jamaica Luxury villas, each a multi-storey Great House in miniature. Experience the exhilarating relaxation as your party enjoys…
The Gold Room
The Gold Room is a state-of-the-art multi-media center, as well as a living testament to the many achievements that memorialize the Chris Blackwell/Bob Marley creative partnership. All the necessary…
The Bamboo Room
The beautiful handcrafted bamboo fretwork over the doors and windows is what gives this room its name. It's one of the most striking dining rooms on property and is…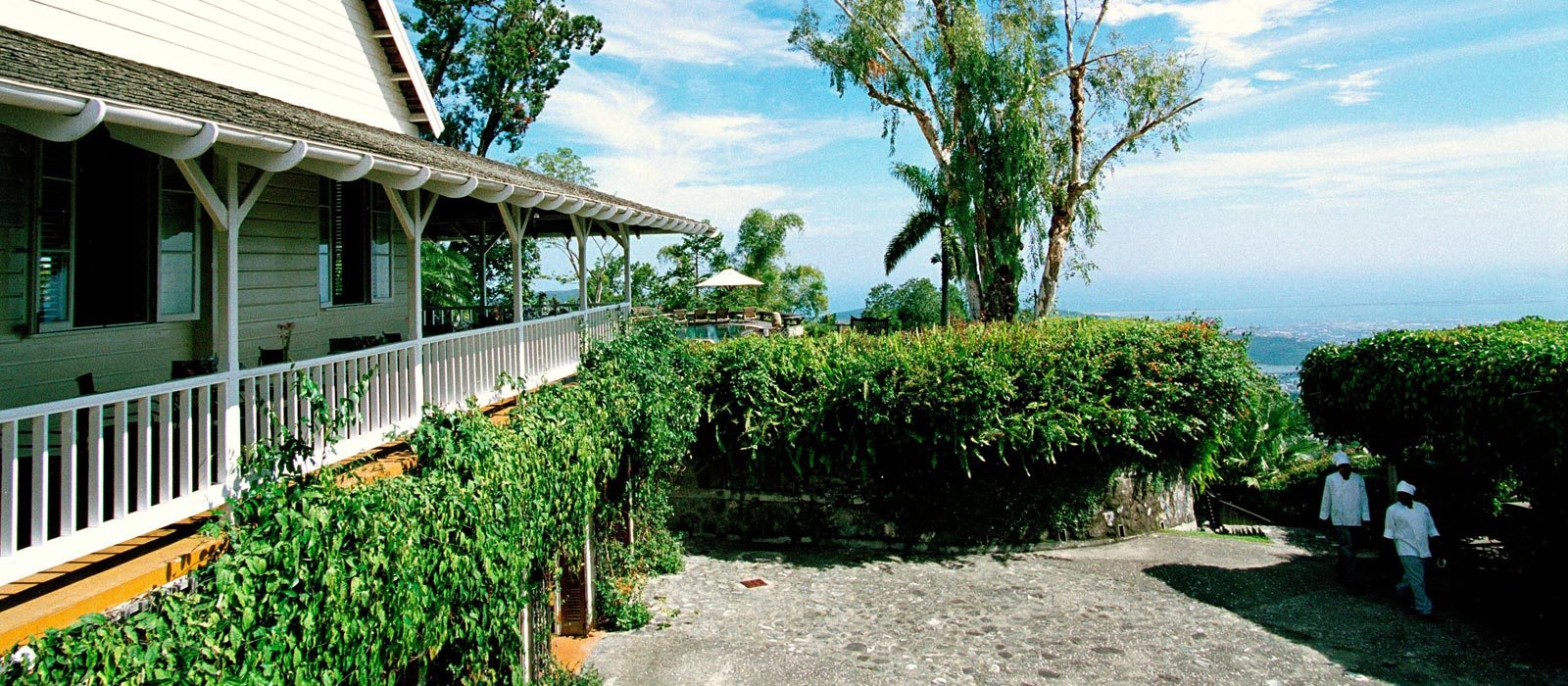 Jadevine Courtyard
A jadevine trellis surrounds this 2,150 square foot terrace area and provides a romantic border for an intimate wedding. The 180-degree views of the mountains rolling towards Kingston below…